Visual Arts and Museum Affairs Blog
July 12, 2021: "War is Not Healthy for Children and Other Living Things" Poster
---
Posted on July 12, 2021 at 12:00 AM
---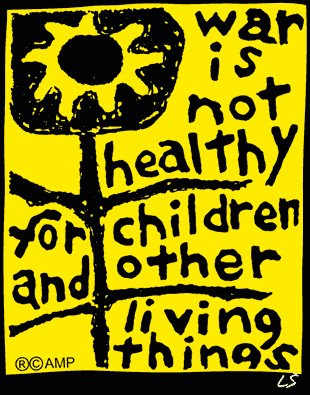 "War is Not Healthy For Children And Other Living Things" is a poster created in response to the outcry of the Vietnam War. But this is no ordinary anti-war poster.
"War is Not Healthy For Children and Other Living Things" is written boldly, with black water-stained and along with the words, there is a yellow sunflower. The artists' intention was to purposely create the poster as if it looks like a child has done it. This unique style created one of the most iconic anti-war posters.
"War is Not Healthy For Children And Other Living Things" is by artist Lorraine Schneider. Lorraine is from a Jewish immigrant family and she was raised in Boyle Heights, a small neighborhood in Los Angeles. Lorraine's mother was an artist, therefore, she grew up with an art upbringing.
Lorraine attended UCLA for undergraduate school and there she chose to study occupational therapy. During her early career as an occupational therapist, she volunteered at an army hospital to help traumatized soldiers. Her experience with helping wounded soldiers changed her life forever and inspired her to return to the arts.
During the height of the Vietnam War, the non-profit, anti-war advocacy organization Another Mother for Peace (AMP) was founded. "Another Mother for Peace was founded… to educate women to take an active role in eliminating war as a means of solving disputes between nations, people and ideologies." AMP would encourage women, who were not allowed to fight, to do "Peace Homework". "Peace Homework" included, "writing to elected government officials to express their desire for peace."
Lorraine's experience in an army hospital really inspired her to collaborate with Another Mother for Peace. Lorraine's artistic abilities created "War is Not Healthy For Children And Other Living Things" and this poster became AMP's logo. Another Mother for Peace said, "The organization's vision is embodied in the Another Mother for Peace logo – a sunflower with the words: "War is not healthy for children and other living things"… This irrefutable statement with its brilliant and childlike design appears on posters, bumper stickers, note cards, letter seals, t-shirts, and of course, the distinctive gold medallions worn by supporters of Another Mother for Peace all over the world."
Understanding Lorraine Schneider and AMP's message could very well be translated to the 21st century. Now more than ever, people have been spreading activism through social media platforms. To consider how Lorraine's "War is Not Healthy For Children And Other Living Things" poster is perhaps an old fashion way of spreading a message.
Lorraine Schneider's artwork became an iconic anti-war symbol. She continued to advocate for peace through her artwork until she passed away at the age of 47.
For more information, visit anothermother.org.
–Hannah Wirth is a senior at American University in Washington, DC. Hannah is majoring in Public Relations and Strategic Communication and she is minoring in Art History. She is our Visual Arts and Museum Affairs Intern this summer.