Visual Arts and Museum Affairs Blog
September 14, 2023: VAMA Collection: "Votes for Women" by Peter Bernhardt
---
Posted on September 14, 2023 at 12:00 AM
---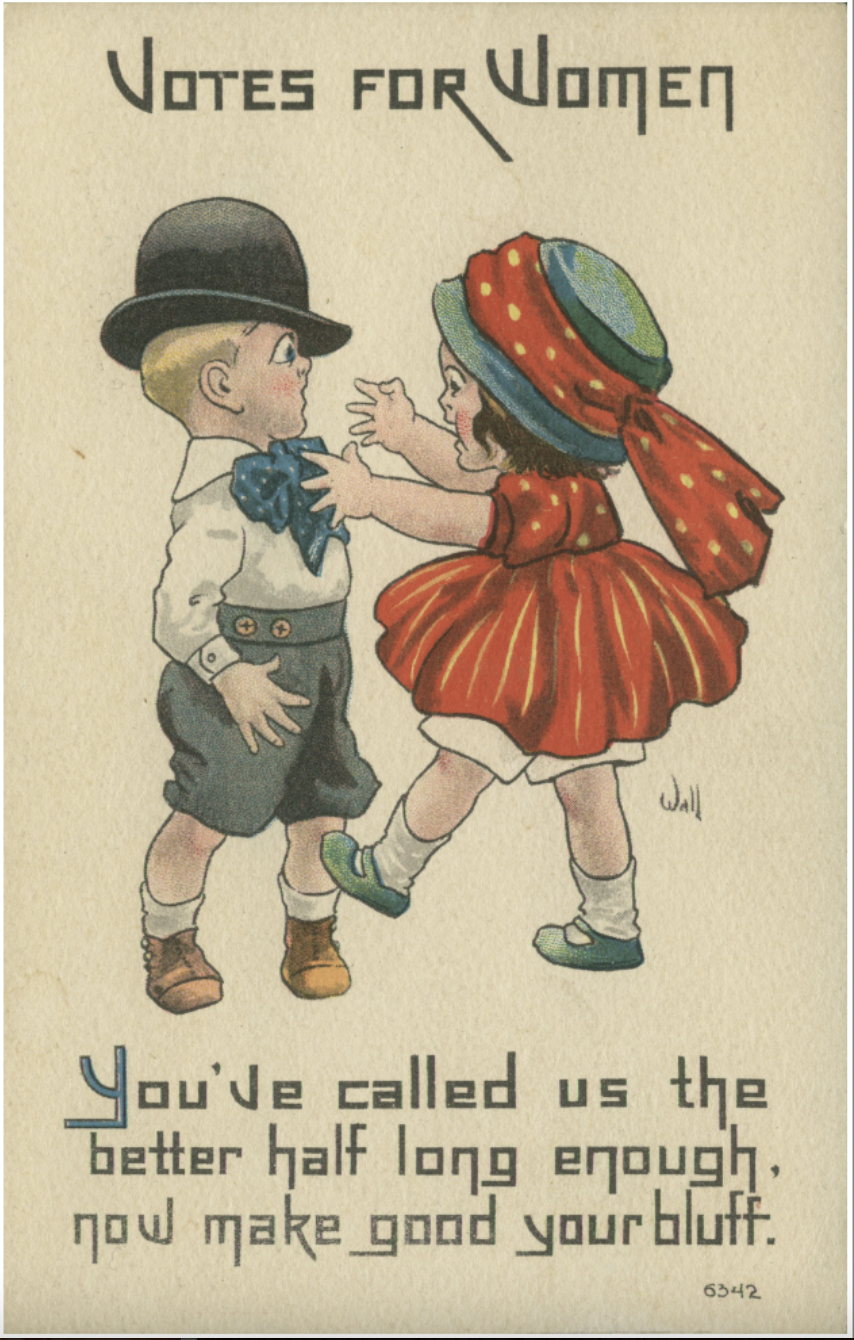 Bernhardt, Peter. Votes for Women. 1913. Women's National Democratic Club.
Written by Gia Bambocci, VAMA Intern and American University Student
This postcard was designed around 1913 by Peter Bernhardt. In this image, Bernhardt promotes the suffragette movement through a colorful cartoon. The children wear adorable clothes and appear to be playing, yet the caption of the image advocates for a serious topic– women's voting rights.
Referred to as the "Postcard King," Bernhardt was not exclusively a suffragette print artist. In fact, later in his career, he focused on historical etchings. In order to profit from his comic designs, Bernhardt worked for at least two print companies during the 1910s, S. Bergman Company and Barton and Spooner. These companies widely published his work, with some addressing suffragette themes.
Bernhardt's intentions with these prints were likely profitability, rather than supporting the suffragette movement. Although some of his prints advocated for women, he created an equal amount of prints satirizing suffragette arguments. For example, in a twelve-print set designed by Bernhardt for S. Bergman company, he creates six prints that are pro-suffrage and anti-suffrage. One states "Votes for Women: I want to speak for myself at the polls," while the other states "Votes for Men: I've a dandy hubby who works for me, I should worry!"
Arguments have been made that suggest Bernhardt wanted to lessen tension surrounding suffragette arguments by representing children, rather than adults in his prints. In this way, the prints could appeal to a broader audience and allow the situation to be viewed from a comical or lighthearted standpoint. In fact, Bernhardt was successful in gaining support from suffragettes, with his prints being featured in a prominent women's journal.
The intentions of Bernhardt's prints are blurred. Bernhardt wanted to profit from these prints but also created messages of support for the suffragette movement. Yet, he contradicted his intentions by creating anti-suffragette propaganda. The print in the Women's National Democratic Club, on its own, offers a view of promotional art from the suffragette movement, which is why the print is archived in our collection. However, understanding the background of the artist while viewing this print is integral to understanding the true intent of Bernhardt's work–to profit from prints regarding serious political events.
Bibliography
Florey, Kenneth. "Postcards and the New York Suffrage Movement." New York History 98, no. 3/4 (2017): 441–64. https://www.jstor.org/stable/26905071.
"Suffrage Postcards." Woman Suffrage Memorabilia. Accessed July 11, 2023. http://womansuffragememorabilia.com/woman-suffrage-memorabilia/suffrage-postcards/
Hughes, Edan Milton. Artists in California, 1786-1940. 3rd ed. Sacramento, CA: Crocker Art Museum, 2002. Print.