Human Rights & Democracy
July 9, 2021: Haiti on the Brink of Anarchy
---
Posted on July 09, 2021 at 12:00 AM
---
With a constitutional referendum due in September and also with presidential and legislative elections due, mercenaries on the 7th of July 2021, took the fate of the Caribbean island of Haiti into their own hands when they assassinated President Jovenel Moïse. It begs the question whether this is the new genre of determining the will of the electorate, namely, removal by force.
In the midst of political turmoil, a growing humanitarian crisis, and the ongoing COVID-19 pandemic, the assassination of the Haitian President Moïse poses a security challenge to the United States. If care is not taken, the instability in Haiti could spread to neighboring island and pose a challenge to the United States and its neighboring countries.
Unpopular leaders must be feeling concerned by the manner in which the Haitian president was removed from office by outside intervention. Is this going to set a precedence? The huge vacuum left by the assassination is likely, if care is not taken, to spiral into anarchy in the Caribbean island, and the question the international community should ask right now is, who is in charge in Haiti post the assassination of its President?
There is a need for an election to have a government in place to halt Haiti's descent further into anarchy at best and civil war at worst. This could be achieved with the assistance of international peacekeeping troops. The international community, the United States, the United Nations, the Caribbean Community (CARICOM), and the Organization of American States needs to send a peacekeeping force into Haiti. The US administration must monitor the ongoing crisis in Haiti and push for and provide security for the upcoming presidential and parliamentary elections in Haiti.
There is also a large, divided Haitian diaspora in the United States and more particularly in Florida. An unstable Haiti will have dire consequences for the US administration.
— Ugoji A. Eze, Esq., PPC Member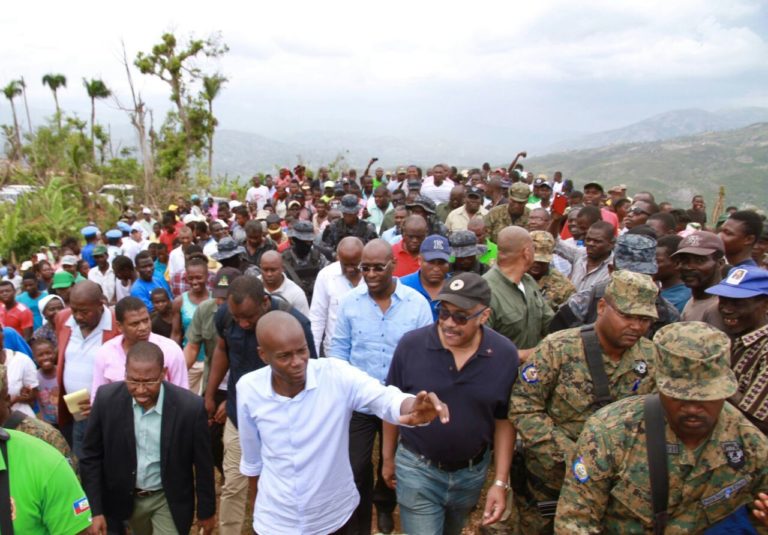 Haitian President Jovenel Moïse, in white shirt, and Prime Minister Jack Guy Lafontant, in baseball cap, visited Jérémie, promising houses for people left homeless by a hurricane on March 31, 2017.